It is a pest control drug that can be used for eco-friendly organic farming with the effect of contact poison against pests and eating disturbance.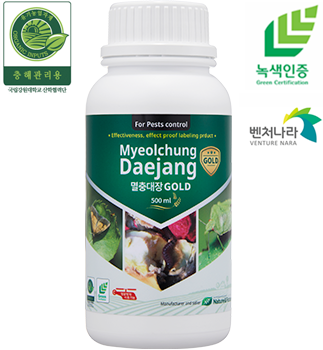 MyeolchungDaejang Gold
Eco-friendly

"Organic Agricultural Material"

Type of material

: For Pests control

Public notice No

: Public notice-2-5-200
(

Effectiveness, effect proof labeling registration

)

Patent application

: 10-1407848
listed on "

Venturenara

" of Public Procurement Service
Qualified as a green product

Airplane dusting and spraying available


(

with ULV reports

)
Product volume : 500㎖
Product Feature and Effects
It is an eco-friendly organic farming material that contains insecticide extracted from plants and helps to protect crops.
It is an eco-friendly functional insecticide with no problems such as pesticide residues.
The effect is shown through contact poisoning and eating disorders against imagoes and larvae.
Korea's first eco-friendly organic agricultural materials to acquire "Quality certification"
- (insecticide for rice farming)

Among eco-friendly organic agricultural materials, it is an "Effectiveness, effect proof labeling product" that guarantees efficacy and quality in accordance with the relevant laws of Korea.

What is "Effectiveness, effect proof labeling product"?
⇒ A product that can guarantee the content of materials and indicate the
effect and efficacy of applied crops and pests.
How to Use
Application
When to use
When to use
Treatment method
Crop
Pests
Rice
Laodelphax striatellus
Initial stage of the occurrence
1,000 times
(water 20ℓ/20㎖)
5~7 days interval
2~3 times
foliar spray
Chilo suppressalis Walker
Cnaphalocrocis medinalis
Mythimna separata
Chili
Aphis gossypii
Persimmon
Halyomorpha halys
500 times
(water 20ℓ/40㎖)
Blueberry
Latoia consocia
bulk generator
Chestnut
Dichocrocis punctiferalis
spawning season
800 times
(water 20ℓ/25㎖)
10 days interval
3times foliar spray
Curculio sikkimensis
imagoes occurrence
500 times
(water 20ℓ/40㎖)
(

Aerial spraying

)
Rice
spawning season
10~ 40 times
( water 8ℓ/800~200㎖)

Unmanned Airplane and Drone Contro


(

ULV - applied foliar spray

)
Cautions
Shake well before use and use immediately after thoroughly diluting in water.
Do not drink, and keep out of reach of children.
In case mixed-use with other product, use after you confirm with small amount of test.
This product is toxic to honeybees, so please refrain from using it as much as possible during flowering period.
Target of use