A product containing plant extraction ingredients that can simultaneously control disease and pest and is with patented superior technology!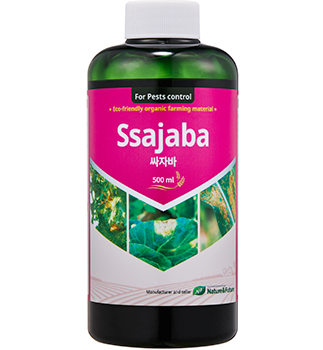 Ssajaba
Eco-friendly

"Organic Agricultural Material"

Type of materials

: For disease and pest control

Public notice No

: Public notice-2-4-019
(

Effectiveness, effect proof labeling registration

)

Product volume

: 500㎖
Product Feature and Effects
This product was developed through research and development projects of Jeonnam Techno Park(foundation)

Among eco-friendly organic agricultural materials, it is an "Effectiveness, effect proof labeling product" that guarantees efficacy and quality in accordance with the relevant laws of Korea.

What is"Effectiveness, effect proof labeling product"?
⇒ A product that can guarantee the content of materials and indicate the effect and
efficacy of applied crops and diseases.
How to Use
Application
Dilution rate
When to use
Treatment method
Main component
and content
Crop
Disease
Spring onion
Rust
1,000 times
(water20ℓ/20㎖)

Growth Period
Every 5~7daysl
2~3 times
foliar spray

Matrine
Camphor
Cinnamaldehyde
Cabbage
Downy mildew
Rice, red pepper, tomato, lettuce, bean,
Cherry tree, Chinese Fringe tree
Above method of use may be increased or decreased depending on the environment or conditions of each crop growth period.
Cautions
Shake well before use and use immediately after thoroughly diluting in water.
Please keep the product

in a cold and dark place since

there are

ingredients that are sensitive to light

.
Don't drink, and keep out of reach of children.
In case mixed-use with other product, use after you confirm with small amount of test.
Example of use