A functional plant nutritional supplements that inhibits nitrogen overdose and induces balanced crop growth!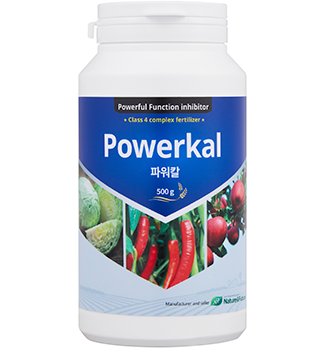 Powerkal
(Calcium phosphate material)
Powerful Functional inhibitor

Type of materials

:

Class 4 complex fertilizer


(

Water-soluble powder

)

Fertilizer registration number

:
Jeonnam Gokseong23-Ga-10404

Water-soluble calcium phosphate materials




0-53-2+Ca(20)+B(2)

Recommended use of bulbous plant.
Product volume :

500g, 1Kg, 2Kg
Product Feature and Effects
A water soluble material containing

53% water soluble phosphoric acid and 20% water soluble calcium

, keeps the structure of plant cells firm and activates physiological action and energy metabolism of cells.
This product helps

inhibit excessive nitrogen due

to the balanced function of phosphoric acid and calcium and stimulate growth, thus enabling crops to become resistant to unfavorable weather and environment.
It is especially effective for vegetables such as onion which has a lack of phosphoric acid absorbing ability in roots after planting in a land as well as chili pepper and almost protected crops which frequently results in succulent growth and excessive height. It also contributes to

improve storability and freshness

as cell wall becomes solid.
How to Use
Crops
Dilution rate
When to use and method
Fruit crop

Vegetable crop
Protected cultivation
1,000 times
(water 20ℓ/20g)
All cropping season
(Including seedling stage)

Use every 7~10days
Open file culture
500~1,000 times
(water 20ℓ/40~20g)
Soil drench
2,000 times
(water 20ℓ/10g)
Rice
Other crops
1,000 times (water 20ℓ/20g)
Cautions
Don't mix with alkaline agricultural chemicals if possible.
When mixing with other products, be sure to dilute

"Powerkal"

first and use in the early morning or around nightfall
After use, close the container tightly and store in a cold place away from direct sunlight and the reach of children.
Example of use