It's an eco-friendly organic substance that contains insecticidal ingredients against pests developed through the "R&D Project."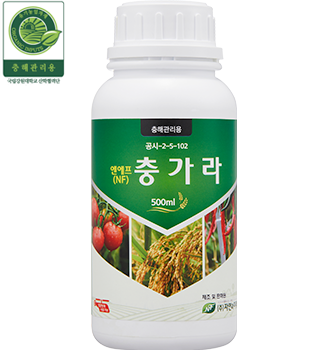 (NF) Chung Ga Ra
Eco-friendly

"Organic Agricultural Material"




- Effectiveness, effect proof labeling registration

Type of materials

: For Pests control

Public notice No

: Public notice-2-5-102

Major ingredients

: Matrine etc.

Airplane dusting and spraying available


(

with ULV reports

)

Product volume : 500㎖
Product Feature and Effects
It is an eco-friendly organic material for crop pest management containing plant extract compositions.
Registered Patent No. 10-1407848 states, "

plant extracts + pyroligneous liquor

, which is the raw material of the product, acts as an insecticide," and

this product contains 90%.

Among eco-friendly organic agricultural materials, it is an "Effectiveness, effect proof labeling product" that guarantees efficacy and quality in accordance with the relevant laws of Korea.

What is"Effectiveness, effect proof labeling product"?
⇒ A product that can guarantee the content of materials and indicate the
effect and efficacy of applied crops and pests.
How to Use
Application
Dilution rate
When to use
Treatment method
Crop
Pests
Cucumber
Aphis gossypii
1000 times
(water 20ℓ / 20㎖)

Growth period
5~7days interval
2~3 times foliar spray

Rice
Cnaphalocrocis
medinalis
Black rice bug
Paromius jejunus
Rice
10 times
(water 8ℓ / 800㎖)
Aerial spraying Unmanned airplanes and drones

※

Chemical injury test (

No abnormality

) : Rice, Chili , Cabbage, Cucumber, tomato
Cautions
Effect Registered Applied Pests