It is a functional plant nutritional supplement that has a rapid effect on the symptoms of Lime deficiency.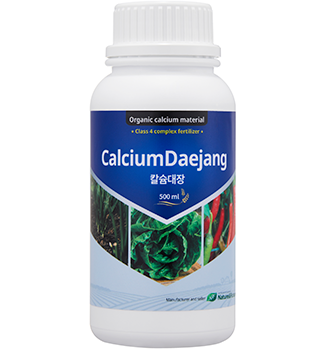 CalciumDaejang
(Organic ionic calcium materials)
Lime deficiency improvement materials

Type of materials

:

Micronutrient element compound fertilizer

Fertilizer registration number

: Jeonnam Gokseong23-Ga-10804
Calcium and nutritional supplement in one product!

Product volume

: 500㎖
Product Feature and Effects
This product used organic calcium, so that the absorption to crop is rapid and fast.
It provides an immediate effect to every lime deficiency condition caused by poor calcium absorption in crop roots.
It contains a large amount of magnesium and boron, preventing physiological disorder such as fruit cracking, puffy fruit, softening while improving storing ability.
How to Use
Spray thoroughly to foliage and stem after diluting it 1,000 times(water 500ℓ) to be wet enough.
After planting, spray 3~4 times every 2~3 weeks.
[But, spray

every 3~4 days

in case of

lime deficiency

]
Crops
Dilution rate
Proper time for use
All crops
500~1,000 times
(water 500ℓ/1,000~500㎖)
- Average 1,000 times-
Suitable for all rearing period
(including seedling stage)
Cautions
Spray in the

early morning

or

late afternoon

when the temperature is low.
When mixing with other products, make sure to dilute it completely and then combine.
It is harmless to people or livestock, but do not drink.
Target of use