A functional plant nutritional supplements that promotes soil improvement and crop growth as a natural plant physiologic enzyme.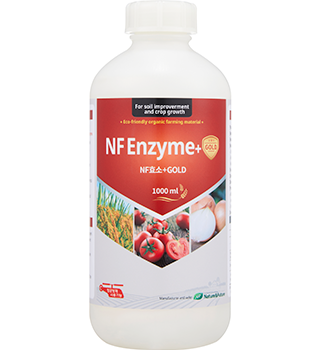 NF Enzyme+GOLD
Eco-friendly

"Organic Agricultural Material"

Type of materials

:

For soil improvement and crop growth

Public notice No : Public notice 3-3-339

Airplane dusting and spraying available

(

with ULV reports

)
Product volume : 100㎖, 1ℓ
Product Feature and Effects
How to Use
Crop
When to Use
Dilution rate
Treatment method
All crops
Seed soaking, seed germination
2,000~3,000 times
7~10days interval
2~3 times foliar spray
and drench
Seeding stage
5,000~10,000 times
Planting time
5,000 times
Growing period
Vegetative growth
3,000~5,000 times
Enlargement stage,
Reproductive growth,
Occurrence of
Various obstacle
2,000~3,000 times
When suppressing plant height
1,000~1,500 times
(single use)
Drench
(soil and plant perfusion)
5,000~10,000 times
Drenching treatment 3,000~4,000m² used
based on the undiluted solution of 1ℓ
Cautions
Be cautious of deficiency of water and nutrient

(especially nitrogen)

because absorbing ability and absorption ability of nutrient increases due to plant activation.
Please keep the product

in a cold and dark place since

there are

ingredients that are sensitive to light

.
Use in a moist environment.
Example of use