This product contains plant extraction and is a disease and insect pest control drug for eco-friendly organic farming.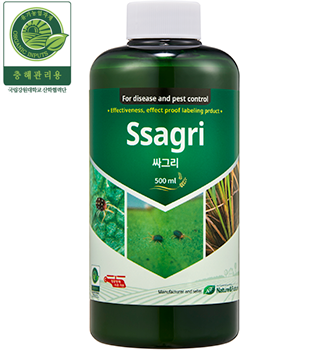 Ssagri
Eco-friendly

"Organic Agricultural Material"

Type of materials

: For disease and pest control

Public notice No

: Public notice - 2 - 6 -003
(

Effectiveness, effect proof labeling registration

)

Public Procurement Service registration No

: 22737968

Airplane dusting and spraying available

(

with ULV reports

)

Product volume

: 500㎖
Product Feature and Effects
It is a product for pest control that has been researched and developed by the project being sponsored by the Ministry of Trade, Industry and Energy.
Made by utilizing forest resources, it has no drug resistant and superb control effect.
With the contact poison activity, it has an immediate effect and the effect lasts long.
It can be used in various crops such as vegetables, field crops, and fruit trees.

Among eco-friendly organic agricultural materials, it is an "Effectiveness, effect proof labeling product" that guarantees efficacy and quality in pests.

What is"Effectiveness, effect proof labeling product"?
⇒ A product that can guarantee the content of materials and indicate the effect and
efficacy of applied crops and diseases and insect
How to Use
Application
Dilution rate
When to use
Treatment method
Crop
Diseases and pests
Strawberry
Tetranychus urticae Koch
500 times
(water 20ℓ / 40㎖)

Initial stage of occurrence
4~5days interval
2~3 times
foliar spray

Apple
Panonychus ulmi
Rice
leaf blast
1,000 times
(water 20ℓ / 20㎖)
Sheath blight
Chilli, Lettuce, Cucumber, Bean
Cautions
Shake well before use and use immediately after thoroughly diluting in water.
This product is a contact materials, so spray it evenly with enough amount.
Don't drink, and keep out of reach of children.
In case mixed-use with other product, use after you confirm with small amount of test.
Target of use